End-of-tenancy cleaning involves a thorough and deep cleaning of a rental property when the tenancy agreement concludes. It is the tenant's responsibility to ensure that the property is returned in a clean and well-maintained condition as required by the landlord or property management. This type of cleaning is deeper than regular home/ property cleaning and involves cleaning every room, including living areas, bedrooms, bathrooms, kitchen, and any other spaces within the property. The goal is to restore the property to its original condition, ready for the next tenant to move in.
How Much Clean Should the Property Be?
The property's cleanliness at the end of the tenancy should match its state when the tenant moved in for the first time. To determine the desired level of cleanliness, landlords typically use the inventory or schedule of conditions that was prepared before the tenant's move-in. The inventory provides a detailed description and, in some cases, photographs of the property's original state. By consulting this document, you or a professional cleaner can ensure that the cleaning satisfies the expectations of the landlord. It serves as a reference point to gauge the required level of cleanliness and helps maintain a fair and transparent process for both parties involved.
Why Clean the Property When Tenancy Ends?
Cleaning the property when your tenancy ends is important for several reasons:
To Avoid the Majority of Disputes
Property cleanliness is a common cause of tenancy disputes. The Tenancy Deposit Scheme (TDS) reports that cleaning-related disputes account for over half of the cases they handle. To safeguard your deposit, returning the property in the same clean condition as when you initially moved in is crucial. Failure to do so may result in deductions from your deposit made by the landlord. If a dispute arises, the decision will be made by deposit adjudicators.
To Obtain Satisfactory References
When moving to a new rental property, you might require references from your previous landlord. If you haven't adequately cleaned the property before moving out, your landlord could potentially mention this in their consideration to your new landlord. A positive reference can be crucial in securing a new rental, so maintaining the cleanliness of the property can help you secure good references and enhance your chances of finding a new home.
Professional Clean vs DIY: Which Is Better?
One common challenge regarding end-of-tenancy cleaning is opting for a professional or DIY cleaning process. I have made a detailed comparison table below, adding all the factors and aspects that can help you choose between the two.
| | | |
| --- | --- | --- |
| Aspect | DIY Cleaning | Professional Cleaning |
| Cost | Cheaper option | More expensive |
| Time | Time-consuming; requires significant effort and hours | Saves time and effort; allows you to focus on other tasks |
| Standard of Cleaning | Depends on the individual's cleaning skills and thoroughness | Generally ensures a higher standard of cleanliness |
| Deposit Deductions | Risk of deductions if the property is not cleaned adequately | Less likely to have deposit deductions due to professional cleaning |
| Expertise and Quality | Depends on the individual's cleaning skills and knowledge | Professional expertise and trained cleaners |
| Convenience | Requires personal involvement and coordination | Offers a stress-free move and frees up your time |
| Reliability and Guarantee | No guarantee of the quality or outcome of the cleaning | Professional service often comes with guarantees or warranties |
| Decision-making | Easy to compare your work with the inventory checklist | Need to carefully choose a reputable and reliable cleaning service |
Consider these factors when deciding between DIY cleaning and hiring professional cleaners. Assess your budget, available time, cleaning skills, and the importance of meeting the property's cleanliness standards.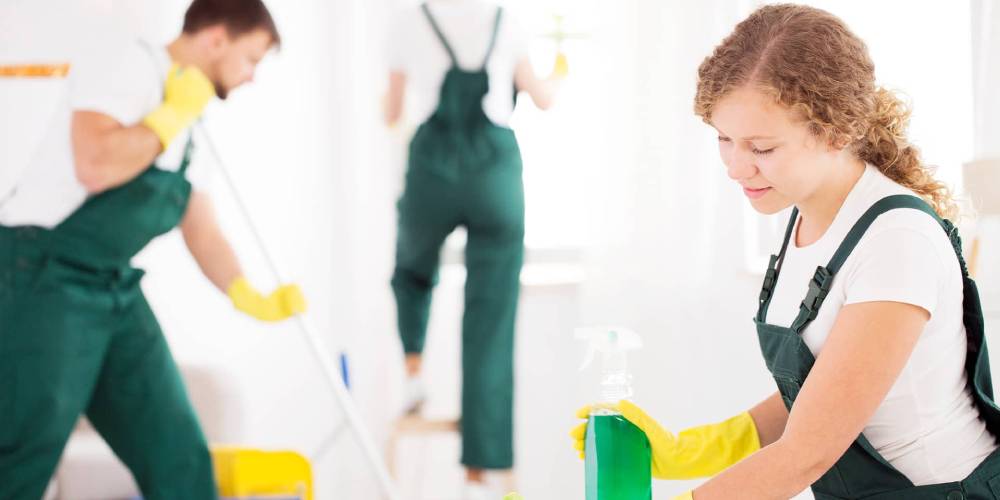 What Is Involved in Tenancy Cleaning? Checklist Here
The following is a typical overview of the tasks involved in tenancy cleaning. But the specific cleaning requirements may vary depending on the property and any specific instructions provided by the landlord or property management.
Kitchen
Deep cleaning of the oven, including the sides, door, back panel, bottom drawer, and control panel
Cleaning the fridge/freezer, including removing food splatters, wiping door handles, mildew, and grime, cleaning the rubber seal and the top of the appliance
Dip tank cleaning of trays and racks.
Cleaning the dishwasher, removing food deposits, grime, and mildew, cleaning the soap dispenser drawer, and checking filters
Wiping down the washing machine and tumble dryer inside and outside, cleaning rubber seals, and cleaning lint filters
Cleaning the microwave inside and outside, including the rotating plate and handle
Wiping, descaling, and scrubbing the sink
Cleaning and clearing all drawers, cupboards, and handles
Removing any food debris and dirt around the sink drain
Vacuuming and mopping the floors, as well as polishing the smooth surfaces
Bathroom & Toilet
Cleaning the bathtub, toilet, bidet, and shower cubicles, removing hair around the drainage, and eliminating limescale
Cleaning all fittings, taps, soap dispenser, sink cabinet, sink, towel rail, and radiator
Scrubbing and mopping the floor
Polishing glass and mirror surfaces
Cleaning plumbing and pipework behind the toilet if possible
Cleaning and wiping extractor fans from dirt and dust
Living & Dining Room
Cleaning windows from the inside, wiping down window sills, and removing fingerprints
Wiping the door frames and top of doors and cleaning any door sketches
Moving drawers, sofas, and beds to clean the areas underneath them
Removing vacuuming and cushions inside the sofa and wiping down tables and other smooth surfaces
Dusting and wiping all woodwork, vents, ceiling fans, walls, mirrors, pictures, and picture frames
Cleaning switches, sockets, and light fixtures
Wiping external radiators
Hoovering curtains and dusting curtain rails
Bedrooms
Hoovering the bed frame, headboard, base, and mattress (you can also order deep cleaning separately)
Wiping and polishing chests of drawers, wardrobes, bookshelves, and bedside tables
Hoovering rugs and carpets
Hoovering and mopping the floor
Cleaning windows, window frames, and sills internally
Hoovering and wiping Venetian blinds, as well as dusting curtain rails
Cleaning and wiping mirrors and picture frames
Wiping skirting boards, doors, frames, handles, light fixtures, lamp shades, and radiators
Cleaning and polishing light switches and sockets
Hoovering external air vents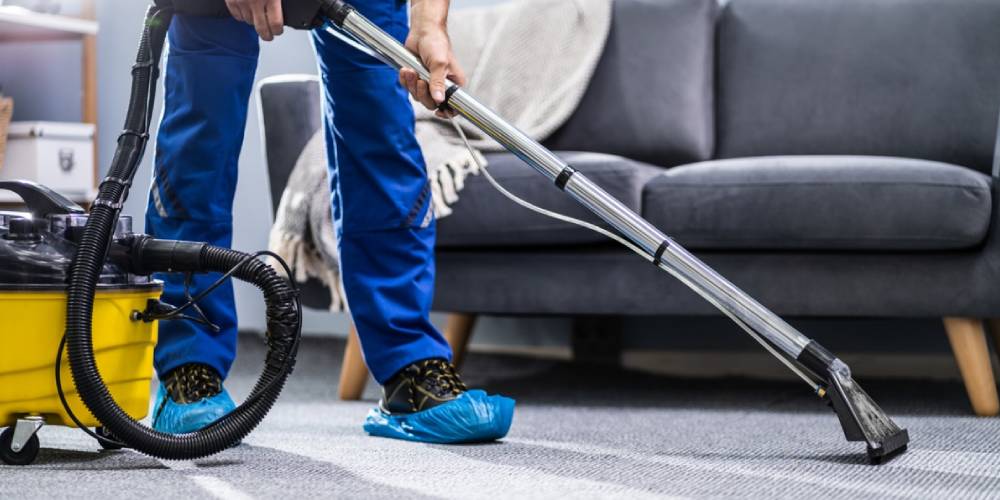 Can I Clean the Property on My Own?
Yes, you can clean the property on your own if you have the time, necessary equipment, and appropriate cleaning products. It's not tough, but it requires a bit of time and attention. If you share the rental property with other occupants, working together on the cleaning task can help expedite the process and potentially complete it within a day or two. It's important to ensure you have the required resources and are prepared for thorough and intensive cleaning to meet the standards set by the landlord or property management.
Will I Pay for the Fair Wear and Tear?
Fair wear and tear refer to the gradual damage due to normal use and natural factors like sunlight and rain. As a tenant, you will not be accountable for paying for fair wear and tear. It is important to note that fair wear and tear, such as worn carpets, scuffed wooden flooring, or faded paint, is considered a normal and expected consequence of renting a property. Landlords cannot expect tenants to bear the costs of these types of damages. However, it's essential to understand that landlords may deduct the necessary costs from your security deposit if property damage goes beyond ordinary wear and tear.